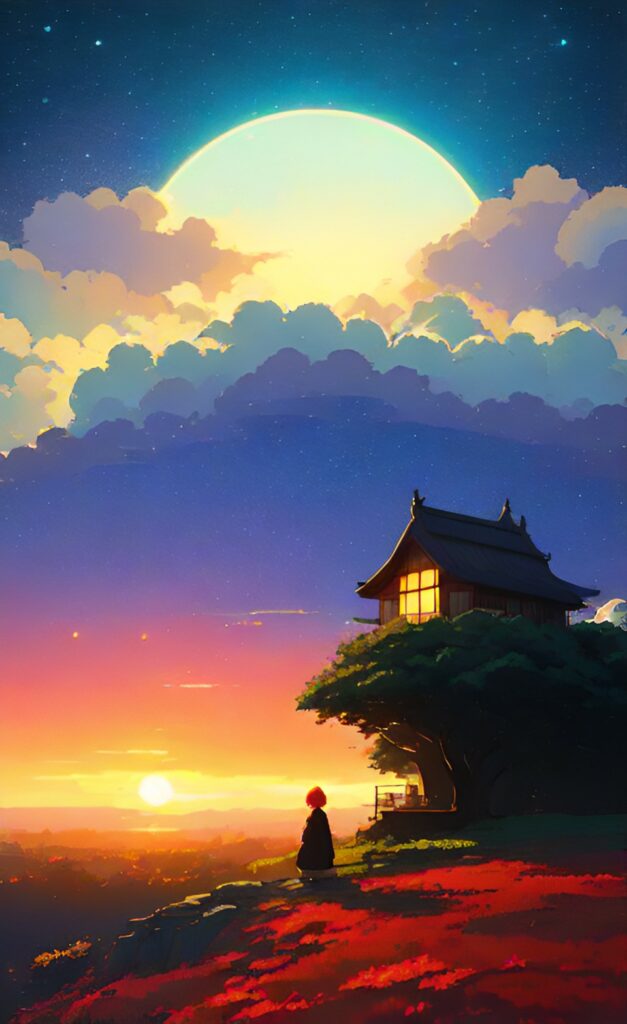 Wisdom
Wisdom is an ethereal treasure
never confined,
always lingering
behind leaves and sunsets,
an iron infant guarded by stars
during cold nights.
In its depth hides a student
who has experienced the dawn of the world
and reads all the songs,
and sings all the books,
and prays to the grass and sand
in flickers of rainbows.
Come closer,
step on the stones covered by moss,
and open this fruit of light.
The night is coming to an end.
It's time to wake up,
to win back your youth.
Sagesse
La sagesse est un trésor éthéré,
jamais confiné,
toujours en suspens
derrière les feuilles et les couchers de soleil,
toujours en suspens
derrière les feuilles et les couchers de soleil,
un petit enfant de fer gardé par les étoiles
pendant les nuits froides.
Dans ses profondeurs se cache un étudiant
qui a connu l'aube du monde
et lit toutes les chansons,
et chante tous les livres,
et prie l'herbe et le sable
dans des éclats d'arc-en-ciel.
Approche-toi,
marche sur les pierres couvertes de mousse,
et ouvre ce fruit de lumière.
La nuit s'achève.
Il est temps de te réveiller,
de retrouver ta jeunesse.
知恵
知恵は空気のような宝物
限定されることはなく
いつもさまよっている
葉っぱや夕日の背後に
星々に護られた鉄の乳児のように
冷たい夜の間。
その深みには学生が潜んでいる
世界の夜明けを経験した者
すべての歌を読み、
すべての本を歌い、
虹の輝きの中で草や砂に祈る。
近づいて
苔に覆われた石に足を踏み出し、
この光の実を開け。
夜が終わってしまう。
目を覚まし、
若さを取り戻す時間だ。
Înțelepciune
Înțelepciunea e o comoară eterică
niciodată închisă,
mereu rătăcitoare
în spatele frunzelor și al apusurilor de soare,
un prunc din fier păzit de stele
în nopțile reci.
În adâncul său se ascunde un student
care a cunoscut zorii lumii
și citește toate cântecele,
și cântă toate cărțile,
și se roagă ierbii și nisipului
în pâlpâiri de curcubeu.
Apropie-te,
calcă pe pietrele acoperite de mușchi
și deschide acest fruct de lumină.
Noaptea se apropie de sfârșit.
E timpul să te trezești,
să-ți recâștigi tinerețea.
智慧
智慧是一個虛幻的寶藏
從未受限,
總是徘徊
在樹葉和夕陽的背後,
一個鐵製的嬰兒在星星的護衛下
在寒冷的夜晚。
它的深處藏著一個學生
他已經體驗了世界的黎明
並閱讀了所有的歌曲,
唱著所有的書,
在彩虹的閃爍中祈禱草和沙。
走近一些,
踩在長滿苔蘚的石頭上,
打開這種光之果實。
夜晚即將結束。
是時候醒來,
重新贏回你的青春。