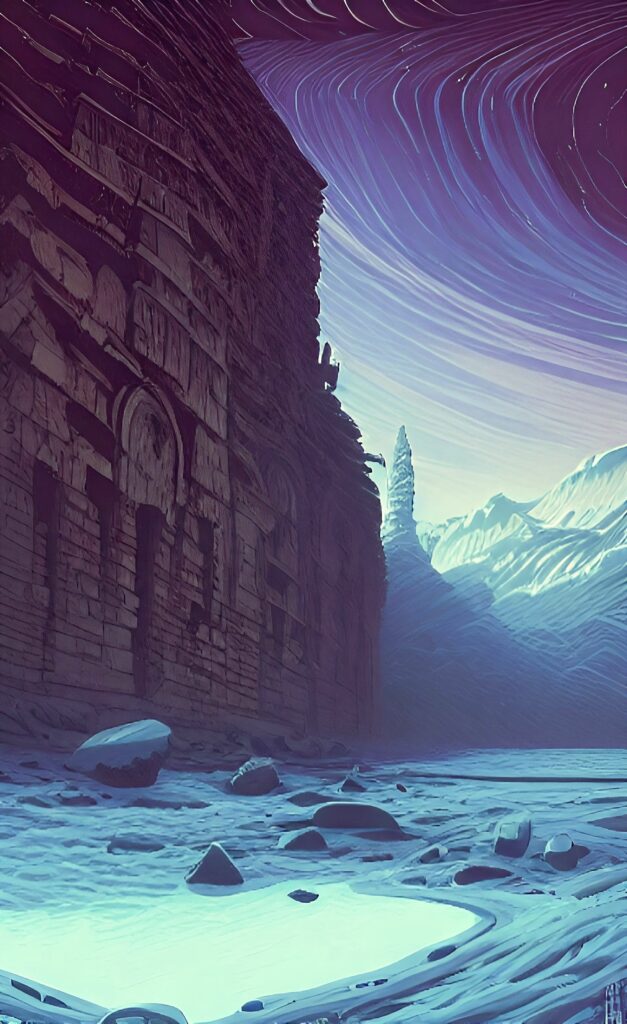 Two Bells
Time never drains.
Always restless,
it pours into entropy,
filling eons
with whispers.
The first bell tolls,
and everything
begins to take shape.
The second bell tolls,
and the Universe is already too old,
an ancient child gazing ahead
towards the incoming end,
cloudy ripples
of dreams
filling whispers
with eons.
Două clopote
Timpul nu se scurge niciodată.
Mereu neliniștit,
se varsă în entropie,
umplând eoni
cu șoapte.
Primul clopot sună,
și totul
începe să prindă contur.
Al doilea clopot sună,
și Universul e deja prea bătrân,
un copil străvechi ce privește înainte
spre sfârșitul care se apropie,
valuri înnorate
de vise
umplând șoapte
cu eoni.
Du sonoriloj
La tempo neniam malpleniĝas.
Ĉiam malkvieta,
ĝi enfluas en entropion,
plenigante eonojn
kun flustroj.
La unua sonorilo vokas,
kaj ĉio
komencas formiĝi.
La dua sonorilo vokas,
kaj la Universo jam estas tro malnova,
antikva infano rigardanta antaŭen
al alvenanta fino,
nubaj ondetoj
de revoj
plenigante flustrojn
kun eonoj.
Deux cloches
Le temps ne s'écoule jamais.
Toujours agité,
il se déverse dans l'entropie,
remplissant les éons
avec des chuchotements.
La première cloche sonne,
et tout
commence à prendre forme.
La deuxième cloche sonne,
et l'Univers est déjà trop vieux,
un enfant antique regardant devant lui
vers la fin qui approche,
des ondulations nuageuses
de rêves
remplissant les chuchotements
avec des éons.
Dos campanas
El tiempo nunca se agota.
Siempre inquieto,
se derrama en la entropía,
llenando eones
con susurros.
La primera campana toca,
y todo
comienza a tomar forma.
La segunda campana toca,
y el Universo ya es demasiado viejo,
un niño antiguo que mira al frente
hacia el final que llega,
ondas nubladas
de sueños
llenando susurros
con eones.
Due campane
Il tempo non si svuota mai.
Sempre inquieto,
si riversa nell'entropia,
riempiendo gli eoni
di sussurri.
La prima campana suona,
e tutto
comincia a prendere forma.
La seconda campana suona,
e l'universo è già troppo vecchio,
un antico bambino che guarda avanti
verso la fine in arrivo,
increspature nuvolose
di sogni
che riempiono sussurri
con eoni.
Dois campainhas
O tempo nunca esgota.
Sempre inquieto,
derrama em entropia,
eons de enchimento
com sussurros.
A primeira campainha tocou,
e tudo
começa a tomar forma.
A segunda campainha tocou,
e o Universo já é demasiado velho,
uma criança antiga a olhar para a frente
para o extremo de entrada,
ondulações nebulosas
de sonhos
sussurros de enchimento
com eons.
Zwei Glocken
Die Zeit läuft nie ab.
Immer rastlos,
ergießt sie sich in die Entropie,
füllt Äonen
mit Geflüster.
Die erste Glocke läutet,
und alles
beginnt Gestalt anzunehmen.
Die zweite Glocke läutet,
und das Universum ist schon zu alt,
ein uraltes Kind, das nach vorne blickt
auf das kommende Ende,
wolkige Kräuselungen
der Träume
füllen Flüstern
mit Äonen.
Два дзвони
Час ніколи не вичерпується.
Завжди неспокійний,
він перетворюється на ентропію,
наповнюючи віки
шепотом еонів.
Дзвенить перший дзвоник,
і все
починає набувати форми.
Пролунав другий дзвінок,
і всесвіт вже занадто старий,
древнє дитя, що дивиться вперед.
назустріч прийдешньому кінцю,
каламутні брижі
мрій
наповнюючи шепіт
еонами.
Два колокола
Время никогда не стекает.
Всегда беспокойно,
она выливается в энтропию,
эоны наполнения
с шепотом.
Первый колокол звонит,
и всё такое
начинает обретать форму.
Второй колокол звонит,
а Вселенная уже слишком стара,
древний ребёнок смотрящий вперёд
к входящему концу,
облачные колебания
мечты
шёпот при набивке
с эонами.
二つの鐘*

時間は決して減らない
いつも動いていて
エントロピーに流れ込む
何年もの時を
囁きで満たす
最初の鐘が鳴り
そして全てが
形になっていく
二回目の鐘が鳴ると
宇宙はすでに年をとりすぎている
古代の子供が前を見つめている
終わりに向かって
夢の雲の波紋が
囁きを埋める
何年にもわたって
© Marian C. Ghilea, 2021
artwork by Marian C. Ghilea, 2022
*Japanese translation by Akiko Ishida